We often think just because we are away on vacation or a trip that the feeling of relaxation just naturally flows along with it.  That the physical act of going to a different location will instantly trigger the body to be calm and unstressed.  This is unfortunately not the case and you need to practice self-care and awareness on vacation just as much as in your normal day-to day life.  Traveling can be just as stressful, sometimes even more if you are not careful.  Follow along to see a few ways you can keep your cool and truly enjoy your vacation, feeling refreshed and relaxed at the end of it.
Time for Yourself
Scheduling alone time is essential for taking a breather and slowing things down. Be alone with your thoughts by practicing a morning mediation on the beach or a late-night stroll through the city. Plan out some time for yourself and you'll be able to decompress and invite the relaxation in. Vacations often feel like there isn't a moment to waste and they just fly by. By scheduling some down time, you will have peaks and valleys of excitement and the quieter times will give you more energy to enjoy the thrill of everything else.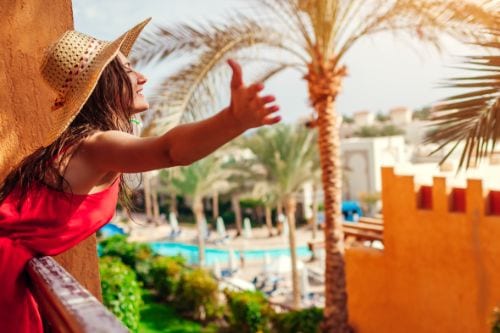 Be Okay Saying No
There are so many activities and plans on vacation, know when you've reached your limit and need to slow down. You might want to pack your days full from sunrise to sunset, but it's just going to run you into the ground quicker. Allow for some spontaneity in your day and vacation, you'll discover new things and be open to whatever comes your way. If you plan out every detail, you are missing the importance of breaking from your normal daily routine. Let your vacation ebb and flow just like the relaxing waters and your mental health will follow suit.
Device-Free
When you plan to get away, truly get away from it all. Disconnect from the hum drum normal day, this includes your phone, social media, and other devices. Don't spend your time away from your life constantly checking back in with it. Even if you put your phone away for the day and enjoy all your vacation has to offer you, you can reconnect in the evening if you must. Plan on disconnecting with work too – put up your own boundaries when you away from the office and your brain will be happy and tranquil. Anything going on at work will still be there for you upon your return. If you let work sneak it, people will assume you will always be available and that's not giving you the space you need to revive and recharge before going back. Establish boundaries and stick to them.
You can truly get the most from your time away if you practice self-awareness and put your mental health first. Even during a vacation, being aware of your health will leave you feeling refreshed and ready to jump back in once the plane's wheels touchdown back home.