Covid-19 has pushed many Americans to rediscover the beauty of small towns all across the continental U.S. Boulder City, NV (the City that constructed the Hoover Dam) is one such town. Built in 1931, this town has a lot of fun history to explore and enjoy. Keep this family friendly destination in mind for your next vacation.
Spring
There are a fair amount of Norse descendants in the Las Vegas Valley. The local chapter of the Sons of Norway have a Norwegian Constitution Day celebration. They wish people "gratulerer med dagen" and eat traditional Svitten Mai food in exchange for donations to the group. The St. Patrick's Day Parade in Henderson is a must visit. It is a weekend-long carnival with rides, a car show, live performances, and whisky tastings. Spring Jamboree is a May festival to raise funds for the local chamber of commerce. It includes handmade crafts, antiques, food trucks, and a car show.
Summer
Boulder City does summer right. The American Independence Day Parade in July is on par with other City parades in the valley, but the fireworks at night are one of the best shows around. People from all over the valley and even from neighboring states travel to Boulder City for the 4th of July. For the rest of the summer, Lake Mead has boat rentals and cruises to the dam, or you can take your kayak to the Colorado River.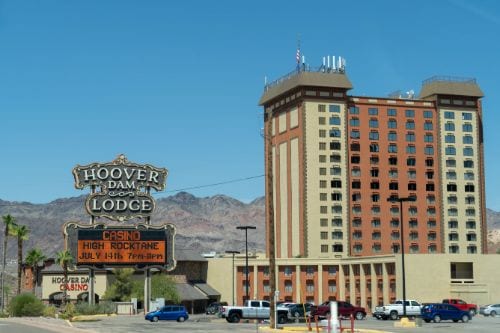 Autumn
In October, the Sunrise Rotary Club hosts the Wurst Fest, a beer and bratwurst charity fundraiser. Art in the Park is another major Boulder City festival that draws people from all over. It's one of the biggest art festivals in the American Southwest, and raises funds for the Boulder City Hospital Foundation. Autumn and spring are the best times to hike as well. The railroad tunnel hike is very popular.
Winter
Like many other towns, Boulder City does a tree lighting ceremony in the winter, and another parade. What sets this small town apart is the Holiday Boat Parade on Lake Mead, and the Christmas Forest. The Boat Parade happens right after the traditional winter parade, and the Christmas Tree Forest is a dirt road lined with Creosote bushes that anyone can decorate in a festive spirit for others to drive past and enjoy. Boulder City also hosts the Dam Short Film Festival in February. As the largest film festival in Nevada, DSFF is a must for art lovers.
Year Round
No matter what time of year you visit this historic town you can browse the vintage shops. Boulder City was named one of the best antiquing towns in the country by onlyinyourstate.com. Other year round activities include touring the Hoover Dam, walking the self- guided history tour, bowling in the retro bowling alley, or visiting the art gallery at the Hoover Dam Hotel.
Artsy or athletic, traveling with the family or solo, Boulder City is the perfect little town for your next vacation.