While planning an all-out vacation with adventure and frills can be fun and exciting, sometimes all you need is a little weekend getaway to recharge and replenish. Planning a mini vacation is a great way to change up your scenery without major commitment or cost. Use some of these tips for planning your very own micro trip to serenity.
Choose the Right Destination
Your journey begins with selecting the perfect spot for your mini vacay. Try to choose somewhere that isn't too far away and is easy to get and from without the hassle of the airport. The less stress, the better, and the more in control of your travel plans, the less room there is to get derailed during your short time away. Think of somewhere that isn't too far away by car, only a couple hours tops – you don't want to spend all weekend in the car either.
Theme It
Try to think of a place you've never explored, but always wanted to. Maybe it's a local favorite that's only a couple hours away. Maybe it could be a relaxing beach getaway or a cabin in the woods. Wherever your locale will take you, plan your whole mini vacay around this theme and really lean into it. It will make you feel like you are fully submerged in the trip and take you away from all the trappings of home.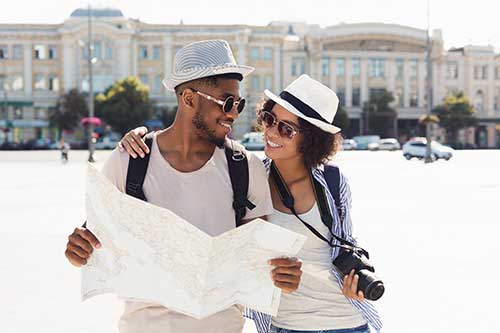 Dine Like a Local
Look up places to eat ahead of time so you aren't stuck at tourist traps because you've run out of time and ideas. When you have a limited amount of time away, make the most by having a list of places at your disposal ready to go. You'll spend less time wandering and guessing and more time eating and enjoying.
Activity Planner
Have at least one activity planned and booked ahead of time to give your trip excitement. It can be a hike through the woods, a beach cruise, wine tasting or a brewery tour, the choice is yours. Having something planned and already scheduled will give your trip some focus and structure too. You can decide how much relaxation and chill or adventure you want from moment to moment, but this gives the mini vacation a focal point. If nothing else, plan on doing the activity and then unwind the rest of the trip.
Unplug and Unwind
Your time is precious, and time away from day to day life and responsibilities is even more precious. Utilize your time away from home by unplugging from electronics and being present in the moment. If you are traveling with your partner or family, commit to spend quality time together rather than on your phones. Use your time to really unwind and recharge those overworked batteries.
Planning the perfect mini vacation can be really easy on your stressful mind and your budget. With a little pre-planning and thought, you'll be on your way to relaxation in no time.