When it's warm outside, nothing feels more relaxing than a nice day at the beach. The warm sun on your skin, the sea salt wind on your face, and the sand beneath your toes is nature's ultimate spa. Keep these essentials on hand in a bag ready to go next time you are heading for the coast, so you don't miss out on a moment of fun or relaxation. The perfect beach day starts with packing for the perfect beach day.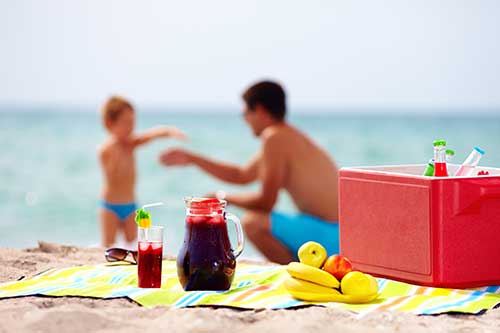 Sustenance and Snacks
Make sure you bring enough water to stay hydrated and other drinks to keep the beach party going. Also pack some light snacks, protein packs or a picnic lunch to keep you and your family happy and full. You don't want to be caught out on the beach without proper hydration, the sun takes it out of you, so prepare to feel the heat.
Sun Protection
Keep different SPF's of sunscreen on hand – higher ones for faces and areas that burn easily and lower ones for areas where you want a bit more color. Follow all instructions – the easiest way to ruin the perfect beach day is with a nasty sunburn. Reapply often, between the sand and the water, there is a lot of sun reflection hitting your body. Bring a hat and coverup for when you don't want as much sun. A beach hat will be your best friend for sun protection and for keeping you cool on a hot day.
Activities and Accessories
Decide the purpose of your beach expedition – is it to catch some sun and a quick nap while listening to the ocean waves or is it a fun sandcastle building day with the kids? Make sure you pack all your activities ahead of time, so you don't forget anything. Keep your beach activities together in a bag so it's quick and easy to grab without having to think too much while the kids are begging to get in the car to get going.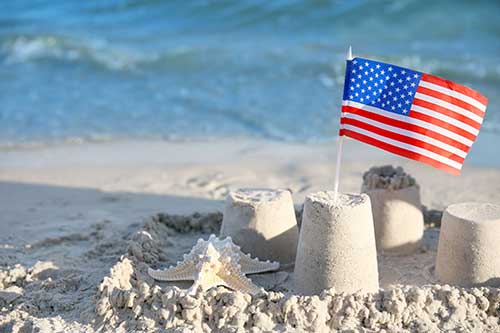 A Giant, Wet, Sandbox
The beach is a lot of fun, but it is also very messy. All those grains of sand get everywhere. Anticipate the mess by bringing a wet/sand bag where all the sandy wet items can go until they can properly be cleaned off. Keeping these items separate from clean items will make your life easier and cleaner.
Your Beach Blanket is Essential
The foundation of your beach day is your beach blanket. Get a big thick blanket that will always act as your beach home haven. Make sure to also think about how to keep the corners down – nothing ruins a good time like your blanket and all your possessions flying everywhere in the wind. Not only will your blanket mark your territory, it will make it easy to find when coming back from the ocean and you see nothing but people everywhere.
Having your beach essentials separate from normal life items will keep you organized and ensure you always have everything you need at a moment's notice. Put together your beach essential bag and you'll be ready for any impromptu trip to paradise.