Getting more bookings for your rental or vacation home is all about telling a story and selling an experience from a few pictures. First impressions in your online presence is everything. Here's a few ways to give your rental home a winning personality that will keep people coming back for more.
Appeal to the Masses
Have a décor style that is appealing to most. You can never go wrong with clean and simple style with a few accents to draw attention and interest. Neutral furniture with pops of interesting color will be pleasing to most renters. Don't have too much clutter or personal objects or interests as décor. You want to charm all types people to keep your bookings high.
Furniture is Key
Have furniture that is a consistent or coordinating wood type and or texture in the same room will make the décor look uniform and purposeful. Don't fill your rental home with a hodgepodge of woods and fabrics from past homes you've owned, or furniture people were getting rid of. Rental homes need to look like boutique hotel rooms in order to maximize bookings and have a place guests can call a home away from home. Stick with classic shapes and designs and you can never go wrong.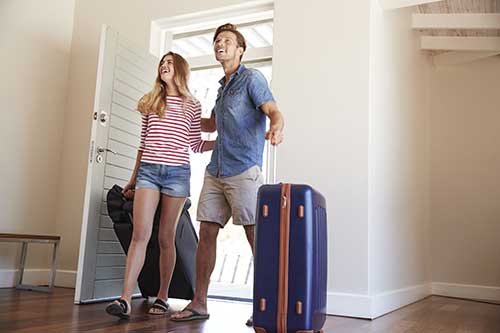 Telling a Story
What story are you telling with your rental home? Is it a beachy hideaway or glam city loft? You can base the story you are telling on your city and tourist destinations. When people are traveling to a new place, they often want to embrace the feel and vibe of that city. Use what your city is known for and cater to that feeling. Your rental will look much more appealing and enticing to potential renters if they feel like they are living in the pulse of the destination.
Find Ways to Surprise and Delight
Having unexpected elements when your guests arrive will keep reviews high and good reviews will make future potential renters excited about your dream space. Have a bath salts bar with a variety of scents for your big welcoming soaking tub to compliment a relaxing bath, put a teddy bear on the bed for those guests who you know are traveling with little ones, the ideas are endless. There are so many ways to surprise and delight your guests upon arrival. Another great idea is a welcome basket with a couple snacks that are regional to your city or a small bottle of wine with a couple of glasses for a couple celebrating an anniversary. Find small ways to a big impact and your guests will always be happy.
Having personality and a keen sense of design in your rental home will attract people right from the start on your website. They will be so excited to come visit your little slice of heaven and even more excited to share their experience with friends and family.