Looking to take a trip around the world? Or looking for an escape while you sit at your desk at work? Let's go on a journey to find the best and most unique desserts out there. Who knows, maybe you'll add a few of these to your travel bucket list in the future!
The Best Powdery Beignets
Looking for the best beignets in the world? These sweet, powdery fried pillows of yumminess are found at Café Du Monde in New Orleans. The restaurant looks like a winter wonderland with the amount of powdered sugar they go through on a daily basis. You can even take home a box of beignet mix to try your hand at them at home. Just be careful with how much powdered sugar you use in your own kitchen, or you'll be decorated for the holidays!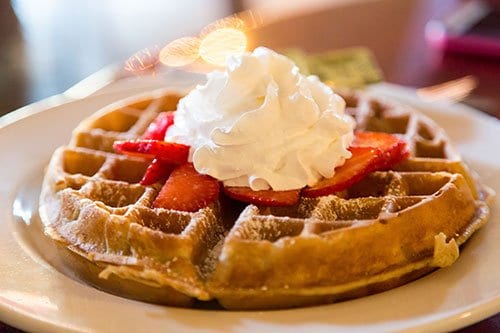 Light as Air Shaved Ice
Travel to Oahu, Hawaii to Matsumoto's Shaved Ice for the lightest, creamiest shaved ice in the 50 states. This little shop has been around since 1951 and prides itself on creating the brightest rainbows in a bowl that you can find on the island. There is easily a line out the door every day as hundreds of visitors flock to this shop to taste the rainbow. Top your shaved ice with the traditional Hawaiian topping of condensed milk and you have a creamy, cold, refreshing treat to enjoy on the beach while you watch a Hawaiian sunset.
Perfectly Comforting Belgian Waffles
Where else to get Belgian waffles than straight from the source? Maison Dandoy in Brussels is the spot for your warm sweet fix with all the toppings. You'll be so conflicted when trying to decide what to put on top, you'll just have to sample it all! From ice cream to cooked strawberries, the possibilities are endless, but unfortunately your stomach won't be. Take your waffle game up a thousand notches and enjoy these little squares of joy in the capital of Europe.
Macarons from the French
Ladurée in Paris is world renowned for being the best macarons in the business. Don't worry if you can't make it all the way to the city of light, there are shops in New York City, Los Angeles, Miami and Washington DC that actually fly the macarons from France daily. These are truly a cosmopolitan delicacy that everyone should experience at least once in their lifetime.
Cotton Candy Clouds
Totti Candy Factory in Harajuku, Tokyo is where you go to find cotton candy clouds bigger than you can possibly imagine. These bright rainbow clouds of candy floss are larger than anything you'll find at your local fair. Grab a friend, or two or three, to help you finish these massive clouds. You can't help but smile as you carry one of these rainbows of happy on a stick through the colorful world of Harajuku.
Traveling the globe one sweet treat at a time is the best way to see the world. Next time you are planning a trip, let your stomach guide you and you'll never be disappointed.