Books have always been an excellent tool for escape. They can easily transport you to different times and various locations. When you are itching to travel but aren't physically able, check out any of the following books and let them transport you to far away destinations.
World Walk- Steven Newman
If you've ever wondered what's it's like to say goodbye to the life you know and backpack around the world for years, this is the book for you. Matthew Karsten, a writer for expertvagabond.com states, "World Walk is the story of newspaper writer Steven Newman who at the age of 28 packed his bag to start a 4 year long journey around the world on foot. He walked his way across 22 countries in 5 continents. He shares heartfelt stories of the people he meets along the way, as well as wild adventures including arrests, wars, blizzards, wild animal attacks, wildfires, and more. A lesson of hope and love told through the exciting adventures of independent budget backpacking."
The Alchemist- Paulo Coelho
This best- selling book has made a big impact on millions of people and has captivated readers throughout the world. Karsten also states, "The Alchemist is an international best-seller that tells the mystical story of Santiago, an Andalusian shepherd boy who yearns to travel in search of treasure. However on his adventurous quest, he finds himself instead. This is a powerful book that inspires courage & chasing your dreams. It teaches important life lessons using entertaining stories."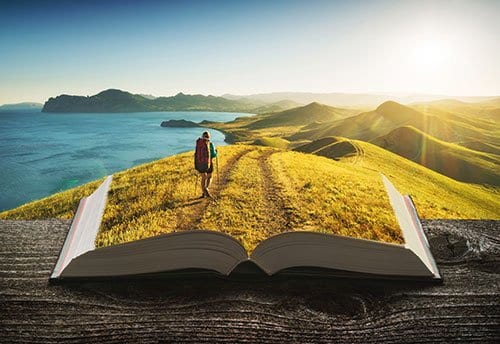 Marching Powder- Rusty Young
Marching Powder is an edgier take on the travel category. The above mentioned article also states, "[This] is the true story of a British drug dealer's five years inside a very strange Bolivian prison, where whole families live with inmates in luxury apartments and cocaine is manufactured. When you spend time backpacking around the world, you sometimes find yourself in ridiculous situations no one back home would believe. This is one of those crazy stories."
How to Travel the World for $50 a Day- Matt Kepnes
For anyone looking for a practical travel guide, this is the book for you. According to nomadicmatt.com, "This New York Times best-selling book was called "The bible for budget travelers" by the BBC and will teach how to master the art of travel so you save money, get off the beaten path, and have a more local, richer travel experience no matter your destination. It features detailed pricing and destination information so you can travel better and know what to expect when you visit places around the world."This book can help you plan your next trip in an extremely affordable way.
Use your Wanderlust as a tool to help you plan your next trip. If you're unable to travel right now, use this time to read books that will take you to incredible destinations. A good book can transport you anywhere!