Learning to pack light for a trip is one of life's greatest challenges. For some it can be really easy, but for most of us, it's something that sends us into a full-blown spiral of confusion and defeat. Try some of these the next time you are carrying on your luggage and you'll be one step ahead.
Utilize your Family and Friends
Depending on where you are traveling, there could be a whole treasure trove of toiletries and products that are at your disposal. If you are traveling somewhere where you feel comfortable – your parents' home, or close friends, ask if you can borrow some of their toiletries so you don't have to worry about taking everything with you in under 3 ounces. They might have left over hotel bottles of things that they'd be more than happy to let you have. If it's someplace you visit often, ask if your hosts could pick up a few things from the store before their arrival – and pay them obviously – but then your go-to products are already at your destination waiting for you.
Your Travel Uniform
Find something that is comfortable but looks put together and have this be your new travel go-to uniform. For the rest of your trip think about pants you can use that will go with multiple tops, or ways to use different pieces of your wardrobe in multiple outfits. Find a color scheme for your travel clothes (black, whites and neutral are always easiest) and you'll have endless mix and match options. Bonus points if you are going somewhere with access to a washing machine, your packing just got easier. Plan your outfits out for every day and evening and they'll be no surprises when you are trying to get dressed.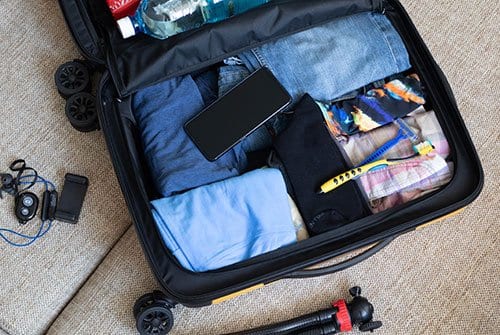 Too Many Shoes
Shoes are heavy and take up a lot of space. Try to limit your shoes to the ones you'll wear on the plane and then one other pair. Invest in good shoes that will work with different outfits and occasions. For ladies, a great pair of comfy ballet flats can be used for casual day outfits and more elevated evening outings.
Workout Wear
While on the subject of shoes, many of us try to be extra ambitious when traveling and promise ourselves we will definitely be working out on the trip. How many of those times did you actually work out more than once on a vacation? Unless you are running a half marathon, you can leave your workout sneakers and clothes at home. Before you know it, you'll be back home dreading your morning run, so give yourself a little break.
These days where you get charged for checking a bag with an airline and it's surprising that your plane ticket doesn't cover the cost of taking anything with you, we all can be a little bit better with learning to pack the essentials. It's a small step towards living a tailored lifestyle – even if it's only on the road.