You are miles from home and want a nice place to put your feet up and recharge at the end of a long day. Maybe your perfect place of refuge is in a swanky hotel downtown with room service and a concierge. For others, it might feel more inviting and relaxing to take a bath in a cozy atmosphere where you can make your temporary dwelling feel like home. Trying some alternatives to hotel living might be right up your quaint alley.
Vacation Rentals
More than ever, people are renting out not only their vacation homes, but other properties with unique elements. Looking online at websites like Airbnb and Vrbo, you have a wide variety of places to stay. You can choose how close you want to be to your destination and at a price that is comfortable to you. Many places pride themselves on having the best experience for their guests and are ready to please. You could find yourself staying at a renovated lighthouse with a cozy living-room fireplace, or a bungalow on a working vineyard. Some of the rentals will even give you access to unique activities, so always check with your host to check out some local happenings.
Bed and Breakfast
Another great source similar to vacation rentals are B&B's. These are a little more traditional and are usually renting a room in someone's house. You can stay in historical houses if that's your thing or living the posh life in a giant mansion estate. These will include a free breakfast (hence the name) that your hosts will cook for you. Imagine being woken up by the smell of bacon and fresh coffee. It's a great way to try out the traditional food of the area and get a nice warm breakfast before heading out to see the sights.
Life on the Road
Renting a motor home isn't what it used to be. There are some pretty high-end vehicles with all the comforts of home that could be your new favorite way to travel. Set your own schedule and travel on the big open road in a new way. You can pack it full of all your favorite treats and snacks and kick back with a good book while you leisurely arrive at your destination. Find a glamping (glam camping) campground and settle in for a night of roasting marshmallows and cozy comforts.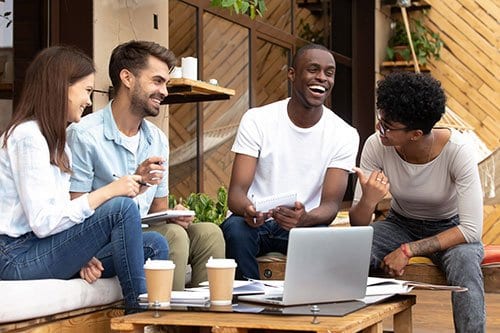 City of Friends
Staying with friends or family can be a great option as well. "Can be" being the operative word. This isn't for everyone and most people like having their own space when they travel. If close quarters don't bother you, or you know your friend has a whole second bedroom and bath they never use, why not have a great place to stay and get to visit at the same time? You can thank your friends by taking them out for a nice dinner and you'll be saving oh so much money in the process.
Gone are the days of being at the mercy of hotels and their sterile room. Choose your own adventure with some of these options and make your home away from home a fun and unique one!