There are so many lotions and potions we use on a daily basis – even more so when it's a whole family you have to worry about. The big task of packing your whole bathroom with you on vacation can be an overwhelming experience. Even worse is when you've forgotten something you can't live without. Rethink your toiletry game and never forget anything ever again, all while keeping it efficient and organized.
Invest in Good Bags and Containers
Selecting a good toiletry bag will save you a lot of chaos and angst. Find one with lots of pockets and compartments. You want one that will also keep the rest of your luggage safe if a spill or lotion explosion occurs. Don't throw a bunch of stuff in a Ziplock bag and expect miracles. Keeping everything organized and labeled are your best defenses. The same goes for the bottles and jars you carry everything in. Purchase travel containers that won't leak or spill. It seems like a bit of an investment at first but will save you a lot of hassle in the end.
The Family that Shares Together…
Think about how you can streamline all of your products. Select one shampoo and conditioner for the whole family. Everyone can work out of the same bottles, making the quantity of stuff you are bringing way less. Even if the selection of products isn't ideal or exactly what everyone specifically uses on a daily basis, it's only temporary for the trip.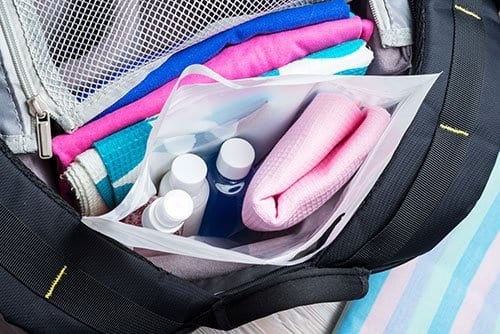 Don't Forget Special Items
Walk through your days and what activities you might be doing. You might want to pack extra sunscreen, band aids and antibiotic ointment. Think of things that you might only need for a certain special occasion – and know that these do usually pop up on trips. Don't be left at the mercy of the hotel gift shop in these instances.
Take your Bag for Test Drive
Pack your toiletries a day or so in advance before you leave for your trip. Then have the whole family get ready for the day only using what you've packed away. You'll be able to discover things you might have missed or products that aren't working way in advance before you are thousands of miles away from the comforts of home.
There is so much to think about when packing for a trip, especially when the whole family is involved. Plan ahead and be strategic with your toiletries and you'll feel like you brought your whole bathroom along with you!