Most of us have dreamed of backpacking through Europe, exploring the local sites and having care free adventures. It seems so daring and exciting to carry only the essentials with you and see just how little possessions one needs. But… our daydreams don't often include the weight of a backpack on our shoulders! We've gathered ideas from all sorts of sources, from contestants on The Amazing Race, to lifelong hikers to give you the best checklist to pack in your backpack.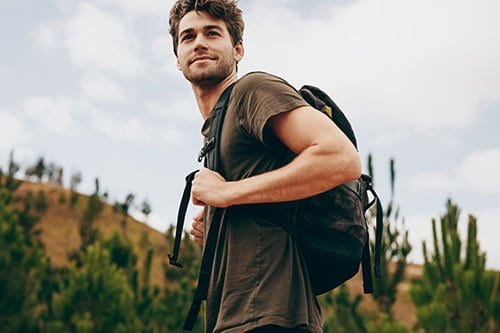 Clothing
Even if your trip is fairly short, your backpack will get heavier each time you put it back on. The body fatigues and the backpack just seems to become a more demanding load. When possible, pack lightweight items like coats and jackets. One suggestion by contestants on The Amazing Race, a game show where contestants carry their backpacks, was to pack old clothes that you are willing to throw away, and to consider disposable underwear. Even quick-dry clothing can sometimes take longer than overnight to dry, and nobody likes putting on damp clothes! Hostels don't usually have a laundry room, so bring mini laundry detergent pods and wash your clothes in the sink when you can. Top tip for packing light: use the rule of three. Bring a maximum of three different types of tops and three different types of bottoms and then you can mix and match your options. You really can get by with just three!
Gear
If you are primarily walking and using public transportation, the weight of your backpack will be pounding on your back, hips, knees, and feet. The lighter your bag, the better it is for you, so long as you have everything you need. For an extensive list of lightweight items broken down by categories like "sleep system" and "camp kitchen", check out The Clever Hiker's guide of The Ultimate Backpacking Checklist. The best advice given was to focus on lightening your heaviest gear: shelter, backpack, and sleeping bag. Investing in lightweight options for essentials will start you on the right foot.
First Aid
The road is demanding, and most Americans aren't used to such an active lifestyle of constant walking. The number one advice gathered was to bring moleskin for blisters and plenty of it! Band aids and antibiotic ointment, plus strictly over the counter items like an anti-diarrheal and sleep aid. For a full list to pick and choose from, the Centers for Disease Control and Prevention has published a "Pack "Smart guide here.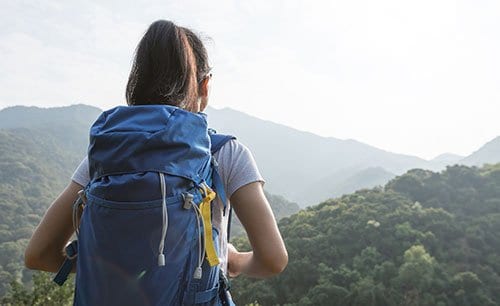 Passport
When traveling with a backpack, it can be tempting to keep your passport in the backpack. But, unless you have zippered locks, it isn't very secure and can be targeted for theft. Always keep your passport on yourself in a discreet location, and never check it publicly. Use bathroom breaks to be sure you still have it, or step into an empty room. Patting your pockets in public draws attention to pickpockets exactly where you keep important things. Read this article for more passport safety tips.
If you're in love with traveling, backpacking might be your next great adventure! Pack light and travel safe!