Traveling on airplanes these days is a far cry from the glamorous 1960's when comfort and luxury were standard.  Today it can be such a boring experience with less and less leg room, stale snacks and gross bathrooms.  How can you make your time in the not so friendly skies a little more bearable?  Here's your new survival guide to acing the flight.
Schedule your Activities
Variety is the spice of life and this is essential on a plane ride.  Plan out what you will be doing for each hour of the flight.  Read for one hour, watch TV for another hour.  Don't just throw a bunch of stuff in your carry-on bag and figure it out on the plane.  Look at everything that goes in your bag with an expiration time of fun.   If you know that reading is only going to occupy you for 30 minutes before you get restless, make sure you account for the rest of the flight time.  This will also give you things to look forward to.
Snack it Up
Don't rely on the little stale bags thrown at you from the aisles. Trying to keep yourself comfortable is key and this extends to what you put in your body. Pack comfort foods way before you arrive to the airport. Snacks at the airport are so expensive and they might not always have your favorite.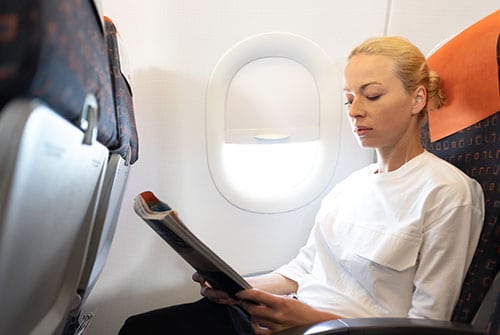 Pack a Bag o' Clean
Do you know how many people have sat in the same seat you are going to be stuck in for hours? Try not to think about it too much, and definitely don't become a germaphobe, but there are ways you can keep your area clean and you feeling fresh that will provide a much nicer experience. Pack a little bag that has all the essentials – sanitizer, facial spray, lotion, lip balm, anything you can think of that makes you feel cleaner and refreshed. A good facial spray will keep your skin hydrated and give you a little pick me up on long flights.
Mental Games
It seems like once you climb on the plane time slows down and everything becomes more annoying. Play some mental games, knowing everything is temporary and this too shall pass. You might feel out of your comfort zone and not having the best time but know this feeling won't last forever. Give yourself some pep talks throughout the flight and check in with yourself.
Your Little Cocoon
Try to think of your seat as your little, emphasize on the little, space where you can shelter yourself from the world. Invest in products that will drown out everything else – noise canceling headphones, earplugs, travel blankets. Make yourself a little travel cocoon and hunker down until you hear that blessed sound of the cabin doors being opened.
Air travel can be rough, but hopefully some of these will ease the experience and make it a little more enjoyable. Find what works best for your and stick to that routine.