Planning a perfect vacation is one of the most enjoyable things we can do. After all our hard work we deserve it. The less fun part is budgeting for our dream trips. What is even more unpleasant is having unexpected expenses pop up while we are trying to enjoy ourselves. Many travel expenses are overlooked while planning. Don't forget these frequently forgotten travel expenses.
Meals
Have you ever returned home from a trip and looked at your credit card bill realizing you spent way more than you had expected? Meals are one of the most expensive expenses that are surprisingly forgotten. We tend to focus on other significant costs, like lodging and airfare. There is budgeting in the price of any activities, some needing to be purchased ahead of time. Where we eat is often a decision we make while we are there, and not thought about beforehand. Don't forget to price out three meals a day to give you a better idea of what you will be spending on your vacation.
Cellular Fees
Before traveling out of the country talk to your mobile provider. Posting pictures to social media, texting and calling home will cost you if you don't use an international plan. Most providers have international plans or discounts that can be used. Another option is an international pay-as-you-go phone. Finding free WiFi can save you if you forget to set anything up before you head out. You don't want to return home for your adventure to an astronomical bill!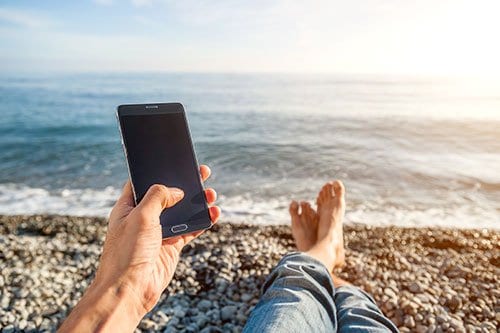 Baggage and Lodging Fees
Businesses love to hide fees in the fine print. The worst feeling is showing up and finding out you owe more than you budgeted. Before you book your plane ticket, make sure to go to the airline website and find out the baggage requirements. Showing up to the check-in and having to pay extra for a bag that is too big will hurt your budget. Hotels will also advertise all the amenities but in the fine print list all the extra fees. Call to double-check the final price before reserving your room.
Unexpected Weather
Imagine planning your dream beach vacation. The last thing you are going to pack is an umbrella or raincoat. Weather does not always play by the rules and is ever-changing. Depending on how many are on your vacation, this could be a costly mistake. It's still a good idea to plan for the unexpected. Unless you like buying new clothes everywhere that you visit. Packing an outfit or two for bad weather can save you from overspending.
Transportation
Traveling without a vehicle means taxis and uber. Calculating how much you will need for transportation is not something you will think about before leaving. This is one of the expenses that can creep up and be more than you had expected. Add a little extra to the budget, or check out the local public transportation.
Don't be stressed by the unexpected travel expenses plan for them now!