There is not always a right and a wrong way to travel with babies, but there is an easy way to do it. Choosing the right baby gear can make a massive difference in the way you enjoy your family trips.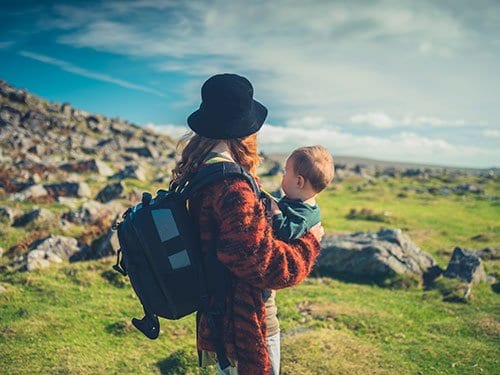 Back-Pack Diaper Bag
The best diaper bag for traveling is the backpack style diaper bag. Trying to carry everything you need along with a possibly struggling baby is difficult. There is no need to make it harder by using a shoulder strap diaper bag that will always slide off at the worst possible moment. Amazons' bestselling backpack diaper [WM1] bag is only forty dollars. If your looking for a more traditional looking diaper bag with the option of wearing it as a backpack JuJuBe has some great options. Your shoulder and back will thank you for switching!
Compact Strollers
Having a large stroller can come in handy in certain situations. When traveling is not always one of them. Navigating a large stroller while trying to sight see can be a nightmare. Trying to find a place to store it while grabbing lunch in a restaurant can be impossible. Another obstacle is checking them to get on a plane. Some airlines have weight restrictions. The Pockit Lightweight Stroller is the number one lightweight stroller this year. It can fold down small enough to fit inside a small suitcase and weighs under ten pounds. An excellent option for those with one child. Joovy makes great compact double strollers for those with two children that are stroller age. 
Pop N Sit
Mealtime can be a crazy time when away from home. At home, it is easy to place your child in the highchair and not have to worry. Traveling can make every meal be a struggle of trying to keep your baby still enough to finish a meal. A great piece of baby travel gear is the Pop N Sit. It folds up into a small travel case and can be stashed in a bag or at the bottom of a stroller. No matter where you are, it works. It can be used alone and set on the ground, or it can be strapped to a chair. Whether you are at the park, hotel, or restaurant, it will make meals a breeze.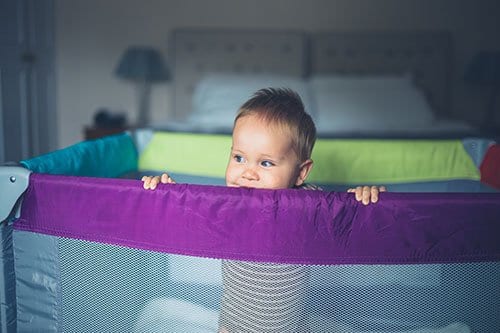 Portable Crib
Finding a travel crib/playpen that fits your needs is challenging. There are so many options and accessories to consider. When traveling, you only want to bring what you need. There isn't always space to bring all the items on your wish list. Skip Hop makes a very compact playard that is perfect for travel and can grow with your baby. It folds down into an easy to carry bag, which makes packing it around more manageable. When picking a travel playpen, take into account how easy or hard it will be to pack.
Traveling with babies is an adventure worth taking. Make that adventure easier by finding the best travel gear to fit your family's needs.