Carry on space is a premium- but on long flights, your comfort is worth that space! We've gathered a list of the top recommendations from regular flyers for what you need to add to your carry on before your next trip!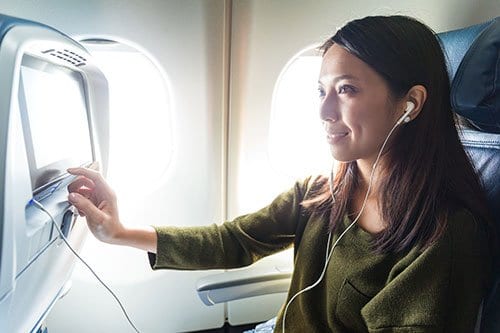 Headphones
If you've ever forgotten your headphones on a flight, you know how just unbearably long that flight was. The flight attendants don't always have headphones available for purchase, so this is a top priority for frequent flyers. Noise cancelling headphones will help to drown out unwanted passenger sounds. That crying baby won't be any trouble! In addition, if you are able to sleep on flights, getting a pair of earbuds will give you greater comfort if your head leans against the window. See here for a Forbes' top list of travel headphones.
Neck Rest
To save space in your luggage, bring an inflatable neck pillow. If those don't work for you, seasoned travelers swear by the Trtl Travel Pillow. It was mechanically designed with internal support to hold your head in a better position for head and neck support in a hammock effect. It looks similar to a bulky scarf being worn, and since it was designed to be worn in cramped spaces, it's perfect for flight travel.
Portable Armrest
If you are regularly flying and not able to pick your seats, you know the dread of being assigned the middle seat. On a long flight, the middle seat is a tragedy. Instead of passive aggressively fighting for elbow space on the armrests, bring your own along. This armrest folds flat, origami style, and is lightweight at just 8 ounces. If you have the room in your carry-on, this might be the gadget for you.
Foot Hammock
Being awarded the emergency row or bulkhead row is rare. To give yourself more leg room, bring along a foot hammock! It doesn't take up much space at all, but saves your legs from feeling cramped and achy when you reach your final destination. Promotes blood circulation throughout your body and eases lower back pain. Why wouldn't you bring this along? Check out this highly rated foot hammock here.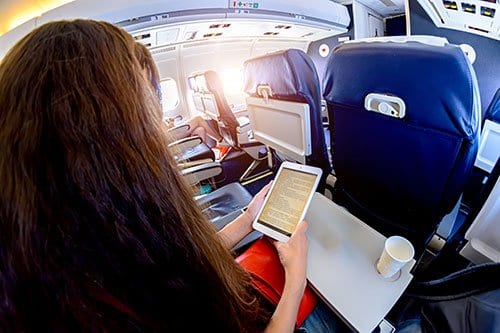 Phone & Tablet Holder
You could always prop your device up on the tray with a book, but this little holder can work even when the seat tray is up and locked away. With an almost perfect rating, this small gadget seems worth the investment. See the Flight Flap phone holder here.
Window Ledge
Another space saving option is to bring your own window ledge! This obviously only works if you know you have the window seat, but you will have so much more space with this portable. AirTray. It easily slides into the plane's window track and folds to fit in your carry-on bag. Regular flyers love it, but have warned that not all airline will allow it.
Wherever your final destination, travel in as much comfort as possible with these clever gadgets!