We want to go on vacation and we do not want to leave our dog home. He is part of the family. However, traveling in a car with a dog is not the easiest thing to do. Here are some tips to make it easier and more enjoyable.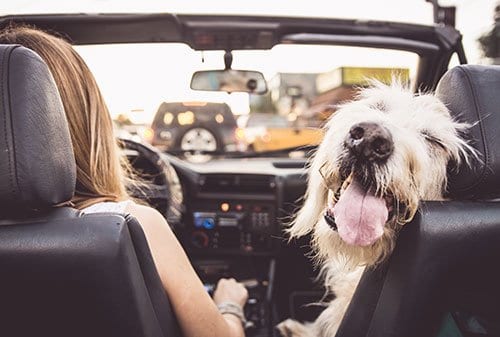 Be Up-to-Date on Tags and Records
You should always have up to date information on your dog's tags, but more importantly when you are on vacation and out of the norm. If they are microchipped make sure that contact information is up to date as well. You will want to have your dog's medical records, more specifically their vaccination records, on hand and up to date too. If your dog gets hurt, sick, or needs to be boarded for the day you will need to have their records. It is wise to always bring them along.
Give Them Their Own Space and Use Positive Reinforcement
Try not to pack your car full and allow your dog some wiggle room in your vehicle. If the dog has more room to move and lay down comfortably than chances are that your little furry friend will be more behaved. If this traveling thing is new to your dog than it might take a little patience and practice to help them figure things out. Use positive reinforcement, reward with treats, and have patience.
Always Have Water for Your Pooch and Take Plenty of Bathroom Breaks
Dogs should not have to wait for water while traveling. You should have a stable bowl of water for them to drink at their leisure. But remember with that comes potty breaks. If you stop to go to the bathroom, take the time to let your pooch go too.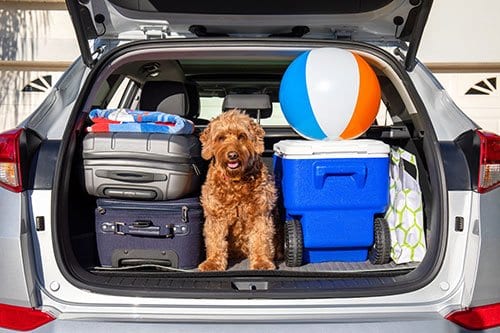 Bring a Collapsible Crate for Hotel Stays
Crates can help your dog feel safer in a foreign environment. It will help to control their behavior and keep them secure while you are doing things that might not allow for your dog as well. A collapsible crate will also save room in your car during travel. Ideally, your dog has used a crate since being a puppy, but if not than try to get them used to the crate before your trip.
Learn the Rules and Regulations of Your Destination Beforehand
Most places and parks have strict regulations about dogs. If you do your research beforehand than you will avoid showing up somewhere, after a long day of travel, only to find out that your dog is not allowed. If you happen to be stopping by a place that is not dog friendly then look up some dog boarding services beforehand.
Pick up After Your Dog
I will get straight to the point here. Do not be the jerk who leaves your dog's mess on a trail for others to run into.
Beware of any Wildlife
If you are traveling somewhere with wildlife that could spook your dog, you will want to know beforehand. You will want to keep you and your dog safe and not agitate any large, dangerous animals. Follow leash laws and be alert.
Take Toys that will Last
While in the car you will want to keep your dog happy and occupied, or while your pup spends time in his crate. Take toys that will last awhile and keep him busy.
Most important, have fun! Enjoy your vacation and the time well spent with your doggie.