Getting caught up in the marketing of all-inclusive vacations is a trap we've all fallen for. It's easy to imagine yourself luxuriating on a cruise ship, living like royalty. Although this is a lovely idea, the reality is not quite so glamorous unless you're willing to pay for it. Take a look at what 'all-inclusive' really means on a cruise ship.
Includes
If you decide to book a cruise, call the company and discuss in detail what their all-inclusive means. For the majority of budget cruise lines, this phrase translates to covering your accommodations, taxes/port fees, most food, entertainment, as well as drinks (non-alcoholic drinks only and soda may or may not be included). Most cruise lines also offer one complimentary excursion for each port you visit although this is not guaranteed.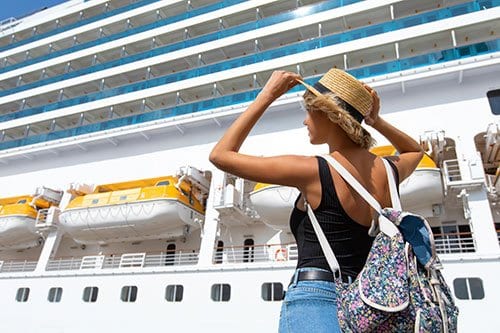 Does not Include
Most budget cruise lines will charge you for any alcoholic drinks, specialty coffee as well as soda. Most restaurants are included; however, there will be some fine dining options they may require you to pay out of pocket. Additionally, the cruise line will typically provide one complimentary excursion at every port but if you want to add an activity or select a different one, there will be an additional charge. Gratuity is also not included. Meaning if you decide to enjoy one of the cruise ship's restaurants, spa, or any of the other amenities they have to offer, you will still be required to tip those who assist you.
How to Get Around This
Booking with certain cruise lines are a sure way to get the most amenities for your money. For example, companies like Carnival, Norwegian, Holland America as well as Royal Caribbean are known to provide one level up in their all-inclusive experience. These upgraded cruise packages include all drinks and also provide travel to and from the cruise ships from your hotel. Some cruise lines even include full use of the spa. If you opt in for a luxury cruise (a bit of a jump in price), gratuities to all staff are typically included in the price of your trip. The downside to luxury cruises are the schedule tends to be more rigid and the activities and excursions are planned for you and set in stone. There aren't many opportunities for exploring on your own. It's something to consider when you're planning your trip.
An all-inclusive cruise may sound good on paper, but you have to make sure you understand what this type of vacation will mean for you. Decide if you want to book a cruise and pay out of pocket for 'extras' or pay a higher price up front and enjoy a truly all-inclusive experience. It might end up averaging out in the end. Do your research, be realistic in your planning and find a cruise that maximizes your money and the number of activities you can do. In doing so, you'll ensure an unforgettable trip for you and your family.