California is not just about the beaches, though there are a lot of them. San Francisco has so much to offer for those looking for a bit of sightseeing, especially those who love history. You will want to give yourself a couple of days to explore all this city offers.
Golden Gate Bridge
One of its most famous landmarks is the Golden Gate Bridge. It is so large that you can get a good glimpse of it in multiple locations. The best place to get a good picture is the Golden Gate Bridge Vista Point. It sits on a hill that looks out over San Francisco. You can get the best image here with the bridge in the background. While beaches are not famous here, there is one that is good and is an excellent view of the Golden Gate Bridge. That beach is Baker Beach. Do two things at once. Enjoy splashing in the water with the beautiful bridge view behind you.
Chinatown
San Francisco's Chinatown is twenty-four blocks to explore. Here you will find a large population of Chinese immigrants, one of the oldest communities in the United States. There are shops of all kinds to explore and learn more about their culture. So stroll through this area and see all there is, eat some authentic food, and do not forget the fortune cookies. There is a charming shop on a little side street that has been making handmade fortune cookies since 1962, The Golden Gate Fortune Cookie Factory. They have so many varieties that you are bound to find one you love.
Fisherman's Wharf
Those needing a place for everyone to enjoy will want to stop by Fisherman's Wharf. If you are looking to do some shopping, you will find a lot of little shops around to enjoy. Those who want to see some wildlife can spy on the birds and sea lions below. There are many food options, especially for those that enjoy some seafood. Children and adults will enjoy Madame Tussauds Wax Museum or the Aquarium of the Bay. All will enjoy getting some ice cream from the famous Ghirardelli Ice Cream and Chocolate Shop. An entire day can be spent doing all that is offered here, something for every family member.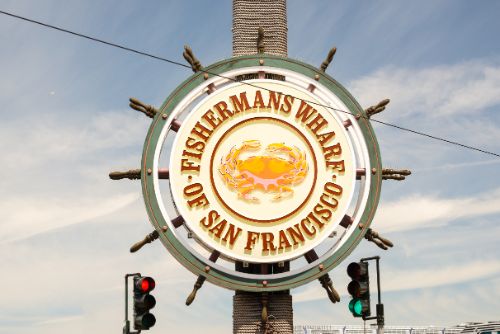 Alcatraz
Those who love history would enjoy a tour of Alcatraz. Alcatraz is a little island, a short boat ride from San Francisco. This is where a prison was located until 1972. They housed many famous inmates you can learn about while taking the tour. Those looking for a little extra suspense may want to try the night tour. They have a structured audio tour for you to use, and then you spend some time exploring on your own. One rule to follow is not to miss the last boat back to the mainland. Get your tickets in advance as it is a very popular attraction.
Start your trip itinerary now. There is so much more to explore!