If you consider yourself a foodie and love trying new cuisines, your next vacation should be inspired by cosmopolitan culinary creations. There are so many awesome cities and countries known particularly for their food, so get reading, get packing, and  get going on your own culinary adventure with a few of these ideas.
Italy
Sure, you've been to Olive Garden and really enjoy it, but the truth is Italy has some of the best pasta, pizza, desserts, and seafood on the planet. The cool thing is depending on what part of Italy you go to the cuisines and delicacies differ all over the country. Down in the southern parts are your more traditional Italian that we know chock-full of pasta and pizza. In the middle regions you get more inventive and different takes on the Italian we all love. There's one thing that's for certain, and it's no matter where you go, amazing desserts, pastries, and gelato are a stone's throw away. If you've always dreamed of living your best Italian life, there's no better place to go.
France
There is a reason why France is synonymous with excellent cuisine and top-notch chefs. These professionals take food to a whole other level. Aside from the fabulous French pastries and the crisp baguettes, there are so many delicacies to try. Put your trust in a chef's tasting menu in the heart of Paris to really get a feel for their passion with food. A surprising element is the portion sizes are way smaller than anything we are used to here in America, so you get to try a little bit of everything. Take your taste palette to the next level with a trip to France.
Japan
You may pride yourself by saying you love sushi and are super adventurous when it comes to food, but Japan is really a country where you can put your money where your mouth is. Next level fresh fish and cuisine await you in this gorgeous country of new experiences. There are so many ways to enjoy and celebrate all things Japanese food can offer and have a wonderful time while doing it. The presentation of food in Japan is next level and it is truly a feast for your eyes. They say you eat with your eyes first, and what you may see in this country can blow your mind. Expand your horizons and try new things in Japan.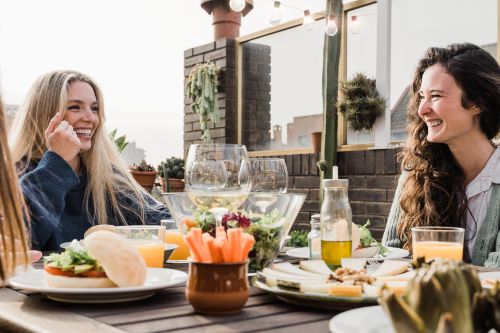 America
While there are awesome places and countries to explore new cuisines in, there are so many different types of food right here in America. You could go on a fun road trip through parts of your own backyard that you've never experienced before. Take a trip across the south through New Orleans and Texas to try some fantastic barbecue and Creole food. Head up north for the best seafood you've ever had in New England, and head out to the West Coast to vineyards that are just as sparkling and gorgeous as the wine they produce. There's so much to explore in your own country so get truckin and get eatin'.
If you are a food lover there is no better trip than to lead with your stomach. Try some of these fantastic countries known for their food, and do some more exploration on your own to find your favorite!