Everyone loves traveling, but the most stressful aspect of traveling is when things do not go according to plan. When this happens it's ideal to have a go to emergency kit on hand and ready to go so you can always keep your travels fun, light, and free from stress and worry. Here are just a few items and things to carry with you to use in case of such an emergency. Take the uncertainty back by having your personalized go-to emergency kit so you can always keep your cool.  Happy traveling!
Battery Pack
Making sure you always carry a battery pack that is all charged up will alleviate any stress from searching around for an outlet plug in a busy airport. By having a battery pack on your person, you can continue using your phone playing your games and watching your Netflix movies while you may be in a delay. The time you are delayed in your journey will fly by without you staring at the clock as minutes go by. Keep your mind occupied and you won't even feel like your plans are derailed.
Snacks and Treats
You never know where you may find yourself and that could also be miles away from a rest stop or in an abandoned overnight airport today. By carrying some of your favorite snacks and treats with you, you always have a backup plan and something as a pick me up to keep you happy. There's nothing worse than feeling hangry when your travel plans go off the rails. Think about having a variety of options from protein powered bars to sweet sugary concoctions.
Small First Aid Kit
Be sure to carry with you a tiny version of a first aid kit that includes Band-Aids, pain medication, allergy medication, and anything else you need to keep you going. There's nothing more inconvenient than needing small pharmacy item that you can't find on your travels. Make sure you are ready for anything including delays with your travel first aid kit.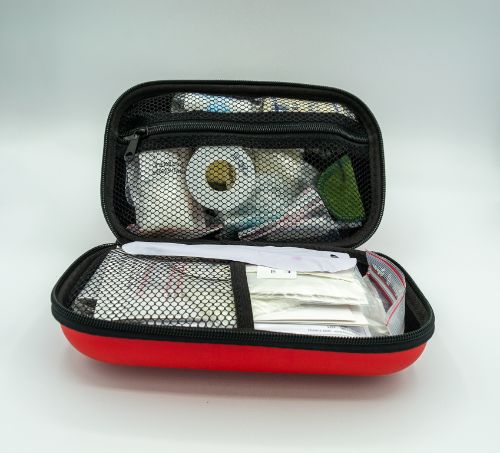 Back Up Plans if Possible
When traveling it's always good to carry back up plans in your arsenal. Especially when your travels are dependent on outside companies and forms of transportation, make sure you can always take back your travel plans. If you find your trip delayed or all together canceled, having a backup plan lessens the disappointment. You work so hard to get a break away from it all, don't let a last-minute curve ball completely derail your well-deserved trip.
By carrying an emergency kit with you during your travels you'll ensure a smoother trip and more of a stress-free vacation and time away from home. Come up with your own travel emergency kit that caters to you and your needs and you can't go wrong.