Dessert is one of the best food courses of all time, and if you have a sweet tooth, you can never get enough.  Take your day to day obsession with the sugary sweet and travel the world to find the most unique places to celebrate all things confectionery.  Here are a few places that top the list for coolest places to get your dessert on.
Black Tap – New York City
Want to know where the best milkshakes are? Look no further than these monster milk "Crazyshakes." With everything from Cotton Candy to Churro Choco, there's a flavor for every desire. They now have many locations in NYC as well as Las Vegas and Disneyland. Get your milk shaking and taste buds singing with these crazy creations.
Toothsome Chocolate Emporium – Universal City Walk, Orlando, FL
Have you seen Willy Wonka's Chocolate Factory? This might be the cousin to the giant Wonka world. Enter the emporium decorated in steampunk fashion complete with a robot walking around greeting guests. The restaurant menu has everything you could want, just make sure you save room for dessert. Crepes, waffles, milkshakes, sundaes, cakes, you name it, this place has it. Be sure to visit the gift shop on the way out for delectable chocolates and other sweets to take home with you. You will have a memorable trip to this emporium of all things sweet.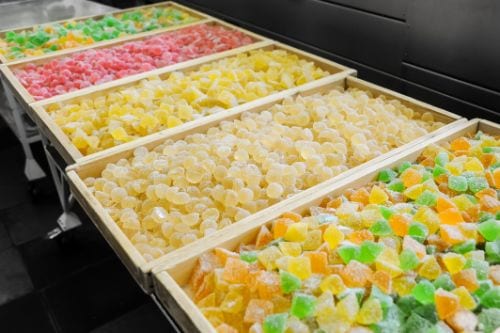 Sugarfina – Beverly Hills, CA and other locations
How about a candy store catered to adults? Fancy candies from all around the world are carefully curated and stocked at this store in little clear cubes for you to enjoy. Candy doesn't get much classier than this. From champagne gummy bears to boozy filled delights, you will be coming back again and again to this adorable shop. The original is in Beverly Hills, but they are growing with locations across the US. Have fun trying unique candies you've never heard of and buy some gifts for friends and family – they'll enjoy every bite.
Harrod's Ice Cream Parlor – London, UK
Get your fancy designer shopping done at this famous upscale department store and enjoy a little sweet treat all at the same stop. This art deco themed ice cream parlor will be a memorable stop for sure. They even have a sundae that is called Spaghetti Ice. So many unique flavors and options, you'll have trouble picking just one. Stop by the famous food hall on the way out for some to-go treats and sweets.
Dessert Museum – Philippines
Ever wanted to see a museum dedicated to the best foods on earth? Look no further than the Dessert Museum. Room after room showcasing all things sweet. From marshmallows to cotton candy, your inner child will be smiling with delight. Tours come with dessert tastings as you travel through the museum and enjoy all the crazy photo opportunities at the same time.
Travel the globe one sweet treat at a time. From cakes to milkshakes, there really is a whole world of possibility waiting for you, and all your sweet teeth.